Display Systems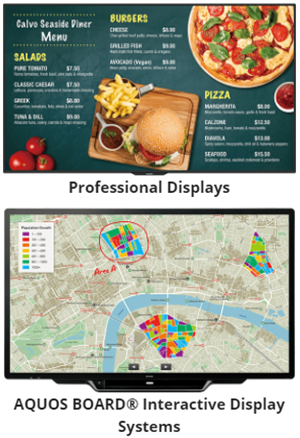 When you have a message to share with the world – more businesses trust Sharp Professional LCD displays to make it happen.
Through U.S. Professional Display Distributor sales channels, Sharp is the top selling brand for unit sales of 60"+ Professional Flat Panel Displays.
Sharp's professional and commercial displays are specially engineered for business applications and are offered in a wide range of sizes and varying capabilities. From high-impact displays for digital signage, to state-of-the-art ultra-narrow bezel video walls, to the award-winning AQUOS BOARD® interactive display systems, Sharp commercial and professional displays help you communicate, collaborate and disseminate information brilliantly.
Sharp AQUOS BOARD®
Sharp AQUOS BOARD® interactive display systems are designed for smooth and effortless communication in a wide range of contexts. Their highly responsive touch pens allow several people to write on the same screen at the same time. And Sharp Display Connect software enables multifaceted wireless communication. Whether in the boardroom or the classroom, Sharp changes the way you communicate.