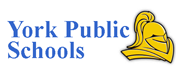 Managed Print Solution for York Public Schools
 
Organization Overview
The York Public Schools offer a comprehensive program for students covering the 'basics' to vocational, special education, computer education, alternative education and college-level courses.  The community of York holds in high regard the professionalism of the district teaching and personnel and provides an extremely strong support base for the educational activities of the schools.  The motto, "A community is known by the school it keeps", is the foundation of our efforts in educating the young people in our community.

Situation
York Public Schools had 41 different models of older and inefficient printing devices including costly inkjet printers placed on desktops.  The ink and toner for all of the printing devices was difficult and elusive to manage.  There also was no method of tracking what was being printed or by whom.  New printing device technologies were not being used.

Solution
Eakes performed a Print Assessment to identify all printing devices and their usage by department and location.

Eakes developed a Technology Plan for York Public Schools that included: 
Remove all costly inkjet printers.

Right size fleet with more efficient and faster printing devices.

Standardize to 8 models.

Eakes provides all consumables for better inventory management.

Maintenance and support of printing devices will be performed by Eakes.

Printing from the network and scanning will be implemented.

End-user training on the new technology for optimum utilization.

Results
Eakes Managed Print Services agreement for York Public Schools lowered printing costs by 17% and improved the quality and speed of printing for additional soft cost savings.  With network printing and the increased access to scanning, the staff became more efficient.

"York Public Schools is proud to have such a long-standing relationship with Eakes.  We appreciate  your support and professionalism.  Not only did you help fix our costs, we were able to implement functions like scanning to email without increasing the overall cost of how we manage printing and copying."