Sharp Security
Sharp Security remains the highest rated company in validated MFP products and is regarded as one of the industry's greatest security innovators. Businesses and government agencies worldwide have come to depend on this level of assurance, which Sharp pioneered and for which it continues to set the benchmark.
An MFP is a powerful asset in your office's environment. Left unsecured however, an MFP can pose one of the greatest threats to your organization. Just consider the types of documents that are copied, printed, faxed or scanned on a daily basis - personal information, financial statements, confidential reports, e-mails, memos, customer data, and employee information.
Intellectual property, private and personal information becomes portable once processed by an MFP, and is extremely susceptible to malicious use from both internal and external threats. While not all risks to confidential information are considered malicious, the potential for significant damage from inadequate protection can be only a matter of time.
Download the Sharp Security Guide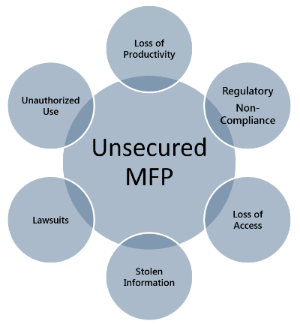 ---
Ricoh Security
At the heart of Ricoh's Printer Security model is the device itself. The Ricoh operating system does not share vulnerabilities that are present in many operating systems, and many of our multifunction devices are certified to be IEEE 2600.2 as standard. Hard disk encryption and disk overwrite security help ensure that processed data remains confidential.

Ricoh has worked hard to help ensure that printer security is not weakened by the introduction of the Smart Operation Panel, which also uses a Ricoh-only OS. Unnecessary components are not installed, and root access is not available. Embedded applications must pass Ricoh compatibility testing before they can run on the Smart Operation Panel. Ricoh's commitment is to deliver products and services that comply with our customers' IT and network security policies.
Download the Ricoh Security Guide