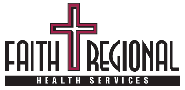 Managed Print Solution for Faith Regional Health Services
 
Organization Overview
Faith Regional Health Services has a long tradition of serving a population of 156,000 people across 13 counties in northeast and north central Nebraska. The physicians, administrators, nurses and other associates, totaling more than 1200, are dedicated to improving health and delivering personalized, compassionate health care with dignity and respect for each individual.  Their Mission is to serve Christ by providing all people with exemplary medical services in an environment of love and care.

Situation
Faith Regional Health Services, like many health care providers, needed to contain expenses and reduce costs in their printing environment.  With older and inefficient printing devices, no standardization, a lack of reporting on devices, overextended IT staff, coordinating with multiple vendors and more regulatory requirements, the need for an encompassing technology plan for managing and printing documents was evident.
Solution
Eakes performed a Print Assessment to identify all printing devices and their usage by department and location.
Eakes developed a Technology Plan for Faith Regional that includes: 
Replacing existing devices and right sizing fleet for cost reductions and

improved end-user efficiency.

Relocating devices to eliminate redundancies and optimize usage.

Analyzing workflow and incorporating industry best practices.

Implementing a security strategy that includes secure print release to meet 

HIPPA guidelines.

Sourcing maintenance and support of printing devices to Eakes.

Providing end-user training on the new technology for optimum utilization.
Results
Faith Regional Health Services has a comprehensive technology plan through a Managed Print Services agreement with Eakes.  It significantly lowered hard costs (40%), lowered soft costs through efficiencies, tracks usage, provides a higher level of document security, and frees up IT staff for other projects.
"The print management agreement that we have has been great for the hospital. We had an aggressive schedule to complete this project and Eakes was prepared to perform all tasks needed to meet this project's time lines."