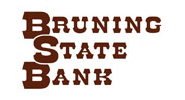 Managed Print Solution for Bruning State Bank
 
Organization Overview
Since 1891, Bruning State Bank, has assisted their clients to build and maintain wealth.  This is accomplished by providing high quality, friendly service to agriculture, business and individuals at fair and competitive prices and being innovative in developing new services to meet the ever-changing needs of their customers.  Success comes from customer loyalty, employee dedication and local ownership who serve and support their communities.

Situation
Bruning State Bank, like many small to medium financial institutions, experienced uncontrolled printing costs from different model printers that required an inventory of a wide variety of toner and ink cartridges to manage.  Fluctuating monthly costs for printing placed constraints on their budget.  IT staff were spending too much time away from critical network issues while trying to support a variety of printers. 
Solution
Eakes performed a Print Assessment to indentify all printing devices and their usage.

Eakes developed a Manage Print Solution that included: 
Standardized printers for cost reductions and improved end-user efficiency.

Improved print speed for everyone for a time savings.

Duplex print capabilities for every desktop user for paper savings.

Full toner and support on all printing devices.

Sourcing maintenance and service of all printing devices to Eakes.
Results
Bruning State Bank gained control of their printing costs and service of their printing devices with a Managed Print agreement with Eakes.  They lowered their monthly costs by 19%, meeting their budget needs and also updated their printing devices for greater efficiency and time savings for their employees.  Their IT staff is freed up to focus on projects that are mission critical to their success as a financial institution.