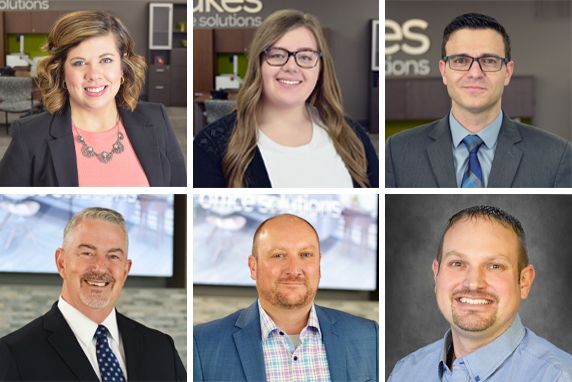 Eakes Office Solutions, a growing midwestern company with 14 locations and over 285 employees, has announced the promotions of several individuals into key roles within the organization.
Tasha Jones has been named Marketing Manager. Ms. Jones joined the company in 2021 as a Customer Service Manager.
Kylie Wetzel has been named Customer Service Manager. Ms. Wetzel joined the company in 2019 as a Customer Service Representative, and later became Customer Service Lead in 2022.
Timur Aydinli has been named Janitorial Product Manager. Mr. Aydinli joined the company in 2022 as a Janitorial Specialist serving the Omaha-area market. He will now lead the Janitorial Division.
Ken Price has been named Janitorial Sales & Support Specialist. Mr. Price joined the company in 2015 as a Janitorial Specialist serving the Grand Island-area market. In his new role, Ken will help educate and develop the Janitorial Sales team, while still servicing his great customers.
Kevin Fries has been named Director of HR. Mr. Fries joined the company in 2012 as Human Resource Manager.
Ryan Hand has been named Director of IT. Mr. Hand joined Eakes in 2009 as Information Systems Manager.
"All of these individuals have a passion for Eakes that is never-ending." said Mark Miller, President and CEO of Eakes Office Solutions. "This group of employees will assist in leading the company through continued growth and expansion."