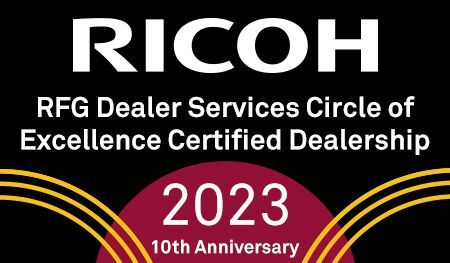 Eakes Office Solutions has earned Ricoh Dealer Services Circle of Excellence certification for 2023. This program was designed to recognize Dealers who provide outstanding service and support in accordance with Ricoh's guidelines.
"For service it means our service team has invested many hours into training and ensuring they can effectively and efficiently service our fleet of Ricoh devices", said Mike Nierman, Corporate Service Manager. "We also meet and exceed industry standards in response time, device uptime and more."
"From a sales side it allows our team to convey to our current and potential Ricoh customers that we take our manufacturer training very seriously", said David Leahy, Managed Print Product Manager. "Our technicians can respond to our customer equipment service calls with the highest knowledge available to troubleshoot and repair their Ricoh equipment."
Eakes Office Solutions began its partnership with Ricoh in 2017. In addition to the Dealer Services Circle of Excellence Eakes was also recognized with the National Award of Excellence for Revenue Growth in 2018.