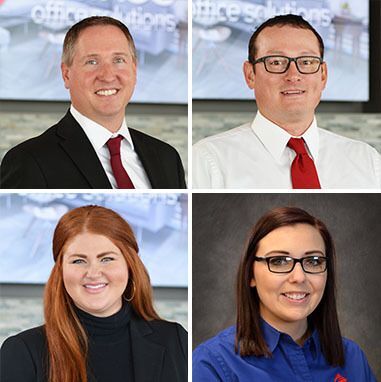 Eakes Office Solutions, a growing midwestern company with 14 locations and over 280 employees, has announced the promotions of several individuals into key roles within the organization.
Christian Pohlenz has been named Technology Services Product Manager. Mr. Pohlenz has been with Eakes since 1999 and has held many technical roles within the organization. Most recently, Mr. Pohlenz served as Eakes' Technology Services Manager.
Ron Faber has been named Technology Services Manager. Mr. Faber joined Eakes in 2013 and has been serving as a Technology Services Consultant for Eakes' western Nebraska locations.
Janey Reznicek has been named Business Development Specialist. Mrs. Reznicek first joined Eakes in 2019 as an Office Products Specialist serving the Omaha market.
Megan Cook has been named Contract Services Supervisor. Mrs. Cook joined the Eakes team in 2017 as a Customer Service Representative, and later became a Service Contract Support Specialist in 2020.
"This group of employees have given their all to the company and are well-deserved for these advancements."  said Mark Miller, President and CEO of Eakes Office Solutions.  "They've all put in a tremendous amount of hard work and shown dedication to the company."