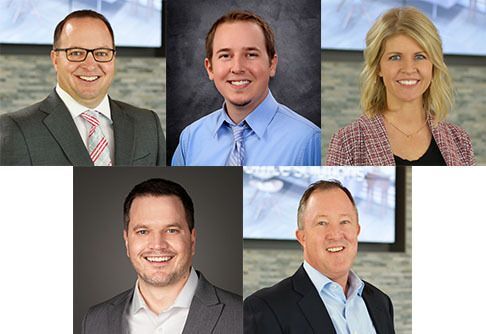 Eakes Office Solutions, a growing midwestern company with 14 locations and over 280 employees, has announced the promotions of several individuals into key roles within the organization.
Nate Schaf has been named Director of Marketing. Mr. Schaf began his career with Eakes in 2017 as a Janitorial Specialist serving the Lincoln-area market and was later promoted to Janitorial Division Manager in 2018.
Jason Tomjack has been named Experience Manager. Mr. Tomjack joined the company in 2011 as a Network Engineer. In 2014, he became Marketing Coordinator for Eakes, and later assumed the role of Corporate Marketing Manager in 2019.
Amy Abramson has been named Furniture Product Manager. Mrs. Abramson first joined Eakes in 2017 as a Furniture Specialist serving the Kearney-area market.
Dylan Popple has been named Sales Manager of Eakes' Omaha location. Mr. Popple joined Eakes in 2019 as a Managed Print Specialist serving both the Lincoln and Omaha markets.
Scott Lilleskov has been named Major Accounts Manager for Eakes' managed print division. Mr. Lilleskov joined Eakes in 2019 as Sales Manager of Omaha and had since become a Managing Partner.
"I can't congratulate this group of individuals enough. They've all put in a tremendous amount of hard work and shown dedication to the company." said Mark Miller, President and CEO of Eakes Office Solutions.  "Eakes is a growing company with unlimited opportunity for advancement. Once you're inside these walls – the sky's the limit."