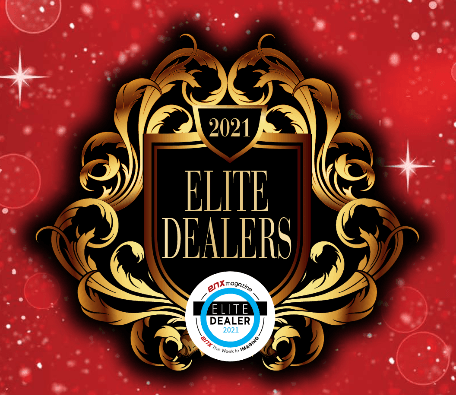 Eakes Office Solutions has been named a 2021 Elite Dealer by ENX Magazine, an industry magazine for technology and document imaging.
"While the political and social arenas still grapple with partisan strife, the office technology dealer universe is as harmonious as ever. Even amid the most challenging and unique circumstances to visit our industry, the dealer community forged ahead, buffered by a culture that stresses team unity," says Erik Cagle, Editorial Director of ENX Magazine.  "Knowing that their end-user clients were being equally tasked, the office dealer pivoted to offering new tools and resources to keep the wheels of commerce in motion."
To earn a spot as one of 2021's Elite Dealers, Eakes did, in fact, offer new tools and resources for their current and prospective customer base. As a service to clients still working remotely or in a hybrid fashion, Eakes created an online MFP training series that covered the basics of using Sharp and Ricoh equipment. In addition to taking care of their customers, Eakes also placed high importance on taking care of their communities. Supporting local food banks, volunteering at Meals on Wheels, and donating over 3000 bottles of hand sanitizer across the state are just some of the ways that they give back to the community in 2021.  
"Eakes is in the business of taking care of people. Whether those people are our customers, our employees, or our neighbors in the community – that is goal number one here at Eakes." said Mark Miller, President and CEO of Eakes Office Solutions.  "Thank you to ENX for once again honoring us with this award."
Eakes has been named an Elite Dealer in 2008, 2010, 2012, and 2014 through 2021.
View the entire Elite Dealer article here: http://www.enxmag.com/twii/elite-dealers/2021/11/elite-dealers-20-million-to-50-million-6/