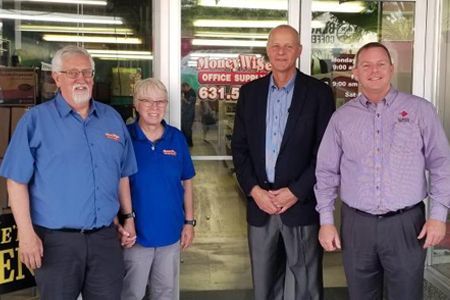 Eakes Office Solutions is excited to announce MoneyWise Office Supply of Scottsbluff, NE will be joining the Eakes team. MoneyWise has been locally owned and operated for over 25 years, serving the office products, furniture and cleaning supplies needs of businesses in western Nebraska and eastern Wyoming.
"I want to thank the Scottsbluff community for their incredible support over the years. I'm confident in Eakes' ability to take care of all of our loyal customers moving forward." said Cindy Hamon, owner of MoneyWise Office Supply. 
Although Cindy Hamon will be retiring at the end of September, sales representative Amy Westphal and the MoneyWise delivery staff will be joining Eakes Office Solutions.
"Cindy and her team at MoneyWise have provided a high level of customer care to the Scottsbluff area.  We look forward to continuing that tradition while expanding products and services in the area." said Mark Miller, President & CEO of Eakes.
Eakes Office Solutions now has 14 office locations across Nebraska, serving Nebraska, Wyoming, Colorado, South Dakota, Iowa, and Kansas.
(Pictured left to right: Del Hamon, Cindy Hamon, Mark Miller, Paul McKinney)