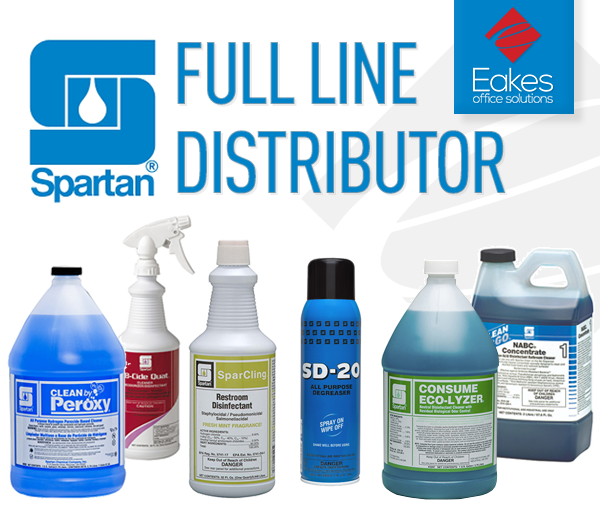 Eakes Office Solutions is pleased to announce the addition of Spartan Chemical Company to their line of cleaning and disinfecting solutions. For 65 years, Spartan has set the industry standard of excellence with unparalleled products and service, and prides itself on offering end-to-end cleaning solutions for all cleaning needs.
"We are beyond excited to be a full-line Spartan Chemical distributor. The Spartan name is well known and trusted in the janitorial industry, and we are eager to offer our customer base Spartan's wide array of cost-effective cleaning solutions to keep their facilities cleaner, safer and healthier." said Nate Schaf, Janitorial Division Manager of Eakes Office Solutions.
"There are a lot of similarities between Spartan and Eakes. We're both Midwestern-grown businesses with over 65 years of serving customers.  We both value quality products and unparalleled customer service.  Most importantly, we both work hard to bring our customers a partner that will help them succeed.  Our partnership with Spartan is an all-around great fit." said Mark Miller, President & CEO of Eakes Office Solutions.
Eakes offers professional-level cleaners and chemicals, and can provide businesses with dispensers for towels, tissues, soap, and hand sanitizer. In addition to cleaning products, Eakes also offers a full line of cleaning equipment including auto scrubbers, floor machines, burnishers, extractors and vacuums, and is an authorized service dealer for cleaning equipment throughout their market.