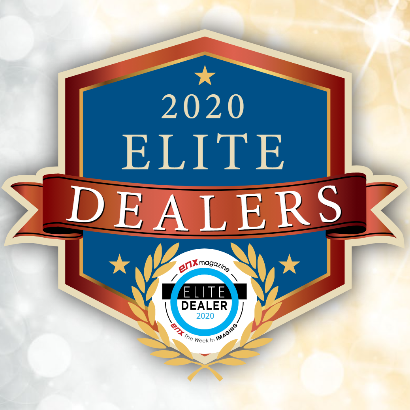 Eakes Office Solutions has been named a 2020 Elite Dealer by ENX Magazine, an industry magazine for technology and document imaging.
"In any other year, success would be measured by the bottom line, profit growth, net-new business, an expanded workforce and product/service enhancements." says Erik Cagle, Editorial Director of ENX Magazine.  "While it is true that we took all of that into consideration in gauging the worthiness of Elite Dealer applicants, bonus points went to those dealers that outlined their pandemic pivot."
While Eakes earned Elite recognition in 2020 for many reasons, one of the most important would be their pandemic response. Eakes endured the COVID-19 pandemic without cutting any staff, and their product specialization outside the realm of MPS helped attribute to their growth in 2020, when many other dealers struggled. Following a strong 2019, Eakes' janitorial products and equipment division continued to be their fastest growing division. In an effort to help their neighbors, Eakes also offered a free Safe Workplace Assessment to help area businesses determine the necessary steps to ensure customer and employee health and safety.
"In my mind, there are two key factors in our continued selection as an Elite Dealer: having unbelievable people who continuously seek to enhance the customer experience, and providing Midwest businesses with world-class products and support." said Mark Miller, President and CEO of Eakes Office Solutions.  "We are honored to receive this recognition for a seventh consecutive year."
Eakes has been named an Elite Dealer in 2008, 2010, 2012, and 2014 through 2020.
Read the entire article on page 48: https://www.enxmag.com/twii/flip-book/2020/12/enx-december2020/