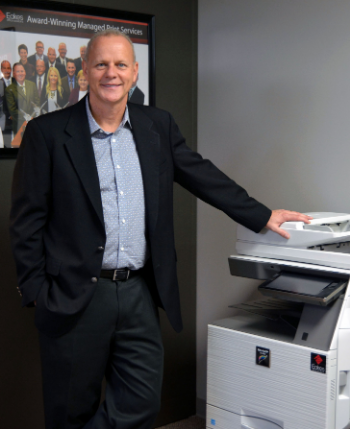 Sharp Imaging and Information Company of America, a division of Sharp Electronics Corporation recently recognized Eakes Office Solutions as a Hyakuman Kai Elite Dealer. Sharp awards Hyakuman Kai Elite status to exceptional dealers that have achieved $5 million plus in sales during the past year. Eakes is among a select group of dealers recognized by Sharp from the hundreds of dealers that sell Sharp's advanced business products and solutions in the U.S.
"It is truly an honor to recognize an exemplary Sharp dealer, such as Eakes Office Solutions for their substantial contributions to Sharp's success," said Mike Marusic, President and CEO, Sharp Imaging and Information Company of America. "The Hyakuman Kai Elite status is not simply a measure of sales performance, it embodies all the qualities we look for in an exemplary dealership, including innovative business practices and long-lasting community relationships through outstanding local customer service."
"We are proud to be a Sharp dealer", said Mark Miller, President and CEO at Eakes. "Our ongoing goal is to provide Nebraska-area businesses with world-class products and support, helping encourage business growth. Sharp helps us meet this goal by supplying the latest technology and document solutions for our customers."
Eakes Office Solutions has been awarded Hyakuman Kai Elite Dealer status 12 times in the past 13 years and is a top-5 Sharp dealer in the nation.