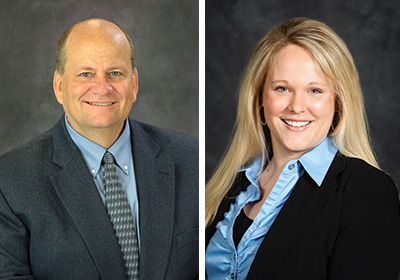 Eakes Office Solutions is excited to announce the promotions of Quinn Vinson to Store Manager of their Columbus location, and Jordan Murdock to Norfolk Sales Manager.
Mr. Vinson, an Eakes employee since 1994, excelled in furniture sales in Columbus before eventually becoming a Sales Manager, leading sales efforts in furniture, office supplies, copiers and janitorial supplies, for the Columbus, Fremont, Norfolk and Sioux City market areas. As Store Manager, he will oversee all operations at Eakes' Columbus, Norfolk and Fremont locations, which includes the management of 28 employees who work daily to provide customers with cost effective and innovative business solutions.
"Quinn has 24 years of experience in sales and sales management at Eakes and has been heavily exposed to all four of our major product categories in the process," said Mark Miller, Eakes President.  "He shines in the pursuit of success and his passion for Eakes is never-ending.  We are excited for Quinn and have a tremendous amount of confidence in his ability lead our Columbus and Norfolk locations for years to come."
Mrs. Murdock has sold furniture in Kearney and digital equipment in Norfolk in her time at Eakes. As the Norfolk Sales Manager, she will help supervise a team of sales professionals serving northeastern Nebraska.
"Jordan's experience with furniture and copiers while at Eakes, as well as janitorial sales in her prior career, will be of great benefit to her in this new role," said Quinn Vinson. "I'm excited for Jordan to bring her knowledge of the Norfolk market and her passion for Eakes to her new position."