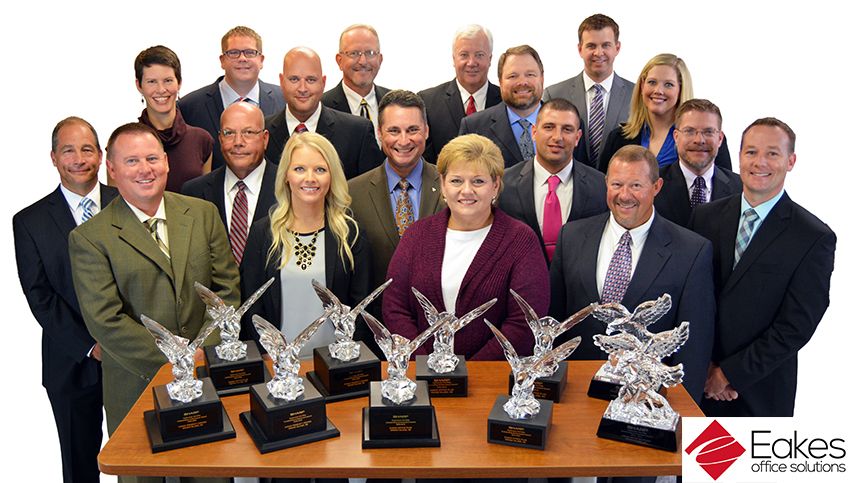 Eakes Office Solutions has been named a 2016 Elite Dealer by ENX Magazine, an industry magazine for technology and document imaging.
"While some of what this year's Elite Dealers have done to become leaders might seem obvious, what really separates them is execution. They set a goal, made a plan, and stuck to it," said Michael Nadeau, Editorial Director of ENX Magazine. "Whether it's for service, sales, or general business best practices, Elite Dealers have systems, processes, and infrastructure in place to analyze performance and make necessary changes in order to achieve a goal."
Eakes earned the Elite recognition in 2016 for their strategically dispersed sales and service teams throughout Nebraska, their sophisticated marketing efforts in new markets that utilize behavior-based targeting to deliver display ads to potential customers, customer service training to 100 frontline employees, including service technicians, delivery drivers, installers and retail personnel, their numerous industry and local recognitions such as the Sharp Hyakuman Kai Elite Award, HP Managed Print Advanced Specialist and the Steelcase Platinum Partners Award, their charitable giving of over $60,000 to more than 220 different organizations, and for the expansion of their employee ownership group from seven to 24 employees to prepare for the next generation of management within the company.
"The key to our selection as an Elite Dealer is to have unbelievable people who continuously seek to enhance the customer experience," said Mark Miller, President of Eakes Office Solutions. "We are indeed honored to be an Elite Dealer."
Eakes has also been named an Elite Dealer in 2008, 2010, 2012, 2014 and 2015.