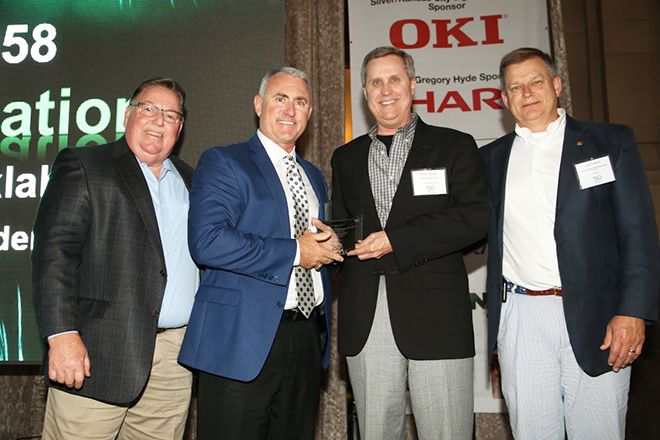 The Business Technology Association (BTA) celebrated their 90th anniversary last month at their annual National Conference in Kansas City. At the event, Eakes was recognized and awarded for their long-time membership and involvement with the association since 1958. Pictured from left to right: Jim Donnellon - BTA East Immediate Past President & National BTA Board Member, Erik Crane - BTA Mid-America Immediate Past President & National BTA Board Member, Monte Rasmussen - Managing Partner for Eakes Office Solutions, and John Eckstrom - National BTA Vice President.
To view Eakes President Mark Miller's congratulatory message for BTA's 90th Anniversary, click here -> https://www.youtube.com/watch?v=h5daQbWs2TA
Founded in 1926, the Business Technology Association (BTA) serves office technology dealerships, resellers, manufacturers, distributors and service companies. Its core members — office technology dealerships — consult, provide services and sell hardware, software and supplies with the primary goal of helping businesses optimize business document and information workflows. Through the association's various educational programs, information, research, legal services, publications and guidance, BTA member dealerships are positioned to be the premier source of the office technology used by businesses throughout the United States every day.