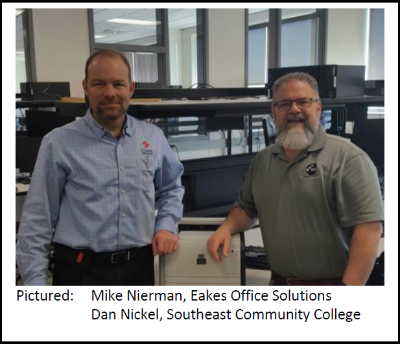 Eakes Office Solutions made a donation of printers in support of printer service and connectivity labs that began this spring at Southeast Community College and The Career Academy. Dan Nickel, the Computer Information Technology Instructor at SCC, contacted Eakes about the idea of expanding their course offering and had their full support. Eakes has long provided a representative to serve on the Electronics Department Advisory Board at Southeast Community College.
"We've had a long relationship with Southeast Community College." said Mike Nierman, Administrative Service Manager at Eakes. "Consulting with the college on courses fits in with our company's drive to support education. Eakes also looks at SCC graduates for the next generation of employees to join our technical team of Service Engineers and other positions with our company. Both TCA and Southeast Community College are dedicated to preparing students for the next step into a career."
The Career Academy is a joint venture between Lincoln Public Schools and Southeast Community College. The goal of TCA is to provide academic and real world experiences to high school juniors and seniors through high school and dual credit courses in 16 different career pathways.