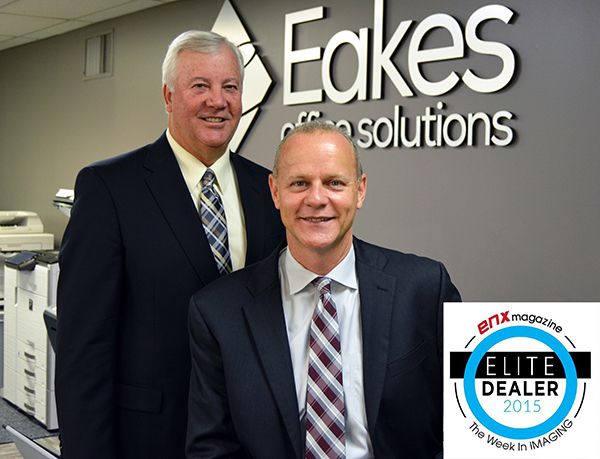 Eakes Office Solutions has been named a 2015 Elite Dealer by ENX Magazine, an industry magazine for technology and document imaging.
"We celebrate entrepreneurship. We are also recognizing innovative marketing and sales initiatives as well as company culture, corporate citizenship, and community involvement," said Scott Cullen, Editorial Director of ENX Magazine. "Our Elite Dealers are thought of highly by their vendors and their communities and have been honored by them as well."
Eakes earned the Elite recognition for 2015 for the expansion of their Technology Consultant Team who are dedicated to train end users on how to get the most from their printing devices and software, leveraging the expertise of tenured, knowledgeable Service Engineers to create long-term relationships with customers, launching a new Copier and HR web site providing a great tool for customers along with a recruiting tool to find the best people as Eakes continues to grow, and several more HR initiatives to support their employees and help them give back to their communities.
"The key to our selection as an Elite Dealer is to have unbelievable people who continuously seek to enhance the customer experience," said Mark Miller, President of Eakes Office Solutions. "We are indeed honored to be an Elite Dealer."
Eakes has also been named an Elite Dealer in 2008, 2010, 2012 and 2014.