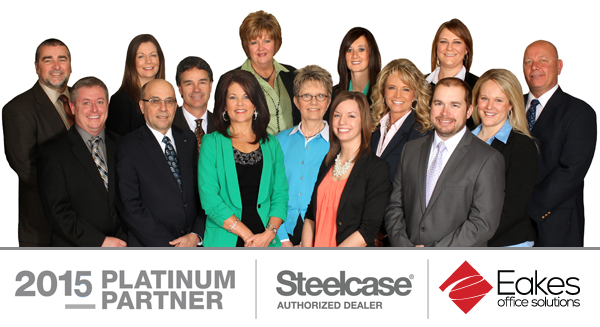 Steelcase has recognized Eakes Office Solutions as a Platinum Partner for 2015. While all Steelcase furniture dealers in the United States and Canada meet high standards for quality and performance, some stand out as extraordinary partners – engaging with Steelcase, customers and community to deliver exceptional value to the people and places they touch. These dealerships are recognized as Steelcase Platinum Partners.
"Being recognized as a Steelcase Platinum Partner for our furniture division every year since its introduction is an honor. It shows the dedication and hard work of our sales, design and installation staff to attain the distinction from Steelcase that we provide the best furniture solutions to our customers." said Karla Wilcox, Furniture Product Manager.
Eakes Office Solutions has been named a Steelcase Platinum Partner for four consecutive years, and is one of only 25 Authorized Steelcase Dealers in North America to receive the recognition this year.