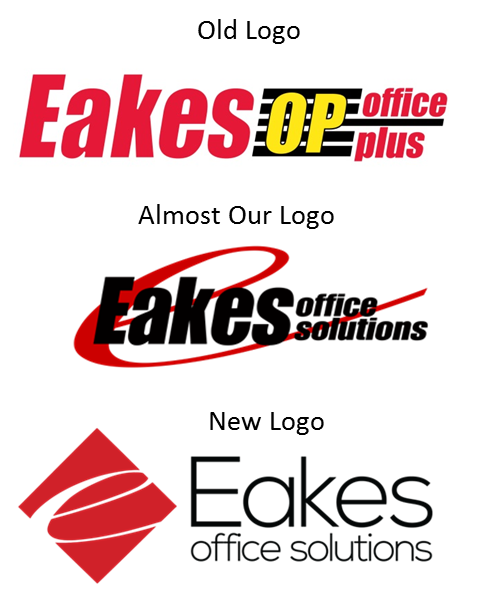 Does your logo no longer portray the company that you are today? Two years ago, the answer to that question for Eakes, was a unanimous YES!
It had been almost twenty years since we changed our name and logo to Eakes Office Plus as part of an affiliation with an industry buying group. At the time, we remodeled all of our office supplies retail spaces with warehouse style shelving to compete with the big box stores for retail business.
Since that time, our commercial B2B business has exploded and retail has changed. Today, everything is about technology and how Eakes helps customers incorporate it into their business.
Furniture must be designed to accommodate technology and the employees using it. It must be comfortable and look cool too.
Copiers aren't about copying anymore. They are multi-function devices used for scanning, emailing, document management, printing, and yes, you can still make copies.
Even office supplies have evolved with paper, cartridges and computer supplies growing while traditional filing is in decline.
Our twenty year old name and logo no longer fit the company we had become; "techie", "cool" and a "solutions provider". A name change to "Eakes Office Solutions" was the right choice.
Here's where you can learn from a mistake we almost made on our logo. In trying to keep with the tradition of who we've been, the font remained the same (tradition) and the addition of the swishing red "e" behind it added movement (today). At the last minute we decided to run it past an advertising agency before making the change. Good thing we did! The feedback was that "Eakes" needed to be softened and the intensity of the red and black would not work well when printed in black and white.
That started us researching logos. We found flat fonts were trending and shading or shadows were a thing of the past. Fonts were now lighter. We were reminded by our Custom Printed Products Specialist that overlapping colors cost more for imprinted products. We looked at other companies' logos like Google, YouTube and eBay. Our thinking changed. With fresh eyes, and only looking to the future, our new logo was designed.
Tips for designing a new logo:
1. Define what your company does best and the image you want to portray to clients.
2. Determine if you need a name change that tells your story today and into the future.
3. Research the latest logo trends.
4. Find a more obscure font for your logo so it doesn't look like everyone else's.
5. Select colors and keep it to no more than two. Three or more colors can conflict with designing marketing materials. We were glad to get rid of yellow!
6. Don't overlap colors and save money on future printing.
7. Consider your current building signs, vehicle signage, uniforms and printed materials and how the new logo will look.
8. Make tweaks to color, font size, icon size until you have that " aha" moment.
9. If you create a logo in house, seek the opinion of an advertising professional before rolling it out.
We are two years into our name and logo change. Our employees designed it and WE LOVE IT!