About Us
There are several things that set Eakes apart from the competition across Nebraska.
Many businesses appreciate that we're locally owned and operated, which means we understand Nebraska's office furniture and office supply needs better than those national chains.
And although we still consider ourselves a "local company" throughout Nebraska, our research and buying power are second to none, meaning you get a wide selection of high-quality office supplies, office furniture and copiers, always at a competitive price.
The biggest thing that sets Eakes apart is our service. With an unwavering dedication to providing our customers the best—from simple questions to advanced document management and office design—Eakes knows that Nebraska settles for nothing but the best. And we deliver.
• Office Supplies
• Office Furniture
• Copiers
• Document Management
• Office Design
Today there are 12 Eakes locations across Nebraska: 9 retail stores providing 130,000 square feet of store space, 2 sales offices, a 48,000 square foot central distribution center and over 200 employees.
Eakes has been delivering Midwest businesses unmatched service since 1945. If you haven't yet experienced the Eakes difference, give us a call today.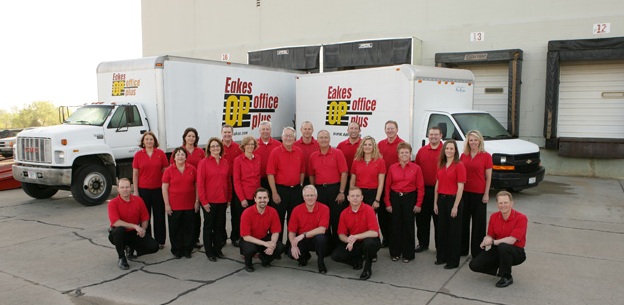 Our Mission Statement:
Provide Products and Services to Help Our Customers Work More Effectively.